Black women gallerists are continuing to sit at their own tables within the art ecosystem, and they're inviting Black people and others to join them.
The nine Black women gallerists featured here are based from Harlem to Dallas, and their ages, their years in the art game, and the artists and aesthetics they're drawn to all vary. They also encompass varying entrepreneurial strategies.
Yet there are consistent, clear throughlines.
Intentionality with artists and collectors they align with is key, and expanding their global presence (whether opening international gallery locations or increasing global exhibitions) is critical—as is obtaining career-changing museum acquisitions for their rostered artists, and continuing to champion Black and POC artists.
For some gallery owners, longevity has been their biggest asset. Seasoned and savvy Nigerian curator Atim Annette Oton has spent years advocating for emerging African and African diasporic artists in New York City, and made the leap to open Calabar Gallery in Harlem during the pandemic. A recent exhibition, Elan Cadiz's solo show "The Limits the Sky," paid homage to their familial ties through whimsical and personal paintings sourced from old family photographs.
The Four Drummers, 2020
Calabar Gallery
Sold
Duke Ellington Listening to Playback, Los Angeles, California, 1960
Jenkins Johnson Gallery
Price on request
Ivy N. Jones's Welancora Gallery, a mainstay in Brooklyn for over two decades, is housed inside a handsome 19th-century brownstone in Bed-Stuy. The gallery is debuting Tamia Alston-Ward's solo exhibition, which features works on paper and drawings deconstructing damaging Black stereotypes created by European colonization.
Jenkins Johnson Gallery, founded by veteran gallerist Karen Jenkins-Johnson in San Francisco, has spent over 25 years canonizing Black American artist heavyweights, including Gordon Parks and Roy DeCarava. At the gallery's intimate Brooklyn townhouse space, curator Jasmine Wahi, artist Tiffany Alfonseca, and other curators of color have produced invigorating shows.
At Myrtis Bedolla's blue-chip Galerie Myrtis in Baltimore, Bedolla married her former artist consulting expertise with her curatorial endeavors and represents brilliant Black women figurative artists like Monica Ikegwu, Tawny Chatmon, and Megan Lewis.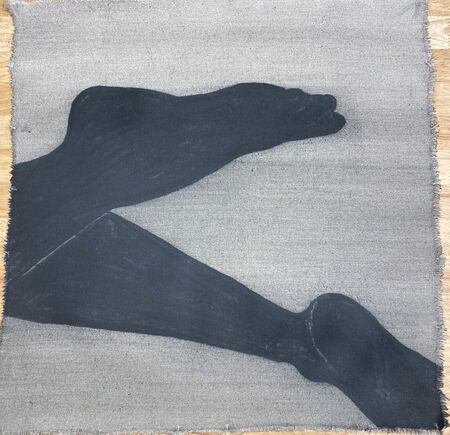 Nearly There, 2022
Medium Tings
Younger gallerists operate with a more nimble, unorthodox, DIY vibe. Six years ago, Stephanie Baptist opened Medium Tings out of her Brooklyn brownstone and now holds roving exhibitions all over her beloved borough. At last year's 1-54 New York art fair held at Harlem Parish (Medium Tings's first-ever fair), the gallery showed taylor barnes's sensuous charcoal-on-cloth works.
Kendra Jayne Patrick's namesake gallery takes a peripatetic approach, operating between Switzerland and New York City, representing artists including Qualeasha Wood and Ada Friedman. In 2022, the Metropolitan Museum of Art acquired Wood's The [Black] Madonna/Whore Complex (2021) for its photographs collection.
In Chicago, Ciera Alyse McKissick's close-knit, mostly BIPOC, online, and IRL community of artists and creatives has fueled her art baby AMFM since 2009. McKissick, also a curator, organized the group show "Relic" during last year's EXPO CHICAGO, featuring artists Abigail Lucien, LaKela Brown, and others, on Black cultural relics of today and their meaning in the future.
Article by Jasmin Hernandez